Laugh Away Your Chaos With The Dog!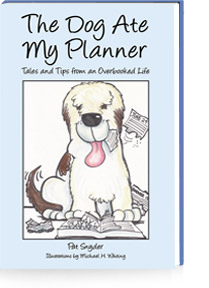 Doggone it! No matter how carefully you organize and plan, some dog comes along and eats up your day. Could be the computer freezes, or mom misplaces her purse over at the assisted living center, or a brand new granddog is experiencing separation anxiety.

In The Dog Ate My Planner: Tales and Tips from an Overbooked Life , Pat Snyder offers the sandwich generation a whole new approach to getting organized: lots of fun illustrated stories about life gone wrong, plus 74 tips ("Leash Laws") for setting it right.

What's more, her Leash Laws and stories, originally published as humor columns, are organized into a dozen "breeds" of dogs that can make you crazy: electronic devices, kids, fashion, illness, self-help, construction projects, holidays, food, shopping, bright ideas, elderly parents and romance.


Share Your Own Puppy Poop

Share the latest puppy poop in your own life and how you handled it on Pat's blog, "The Dog Journal," found at www.PatSnyderOnline.com/journal.
For copies signed by the author or for bulk purchases at special rates, click below to order.
For unsigned copies, please order from Amazon or Barnes and Noble, below.
Is Some Dog Eating Your Planner? Wear that story on your shirt, your hat, your mousepad. Visit The Dog's online store
Visit The Dog's media center for an online media packet or to request a review copy of The Dog